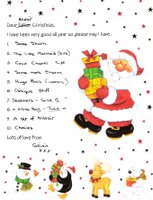 Christmas is coming and the shopping days until then are fast disappearing.
Now many of us lads would have a problem in finding something appropriate for out girl friends for Christmas, but no me, no. This is because I was lucky enough to find a top secret and well hidden wish list, hidden in full view in the middle of my pillow.
It is not all that expensive though, the holiday in Sharm El Sheikh has already been replaced with a two piece suite. Now all I need to do is figure out how I am going to pay for it all.