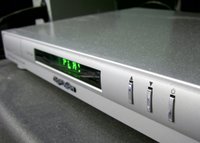 At the end of 2005 my video recorder decided that it really did not want to play back videos and played snowstorms instead. Rather than replace the video I decided to spend a little more and purchase a DigiFusion FVRT100 form a high street store. This was on offer for £120 at the time and was one of my better buys. I strongly recommend the dual tuner.
Personally I love the device that fits my lifestyle very well, but at times I wish it could record a little more. I tried replacing the 40GB Maxtor Fireball 3 with a 120MB IBM Deskstar, and it worked a treat.
One down side was the Deskstar is an amazingly loud drive and this one was rather old, so I wanted to replace it with a brand new quieter one. I purchased a new Seagate Barracuda because they are a nice quiet drive. Unfortunately this kept crashing, very frequently, as did the Samsung SpinPoint and Maxtor DiamondMax that I tried.
After a bit of research I figured out that this was power related. I also figured out that upgrading the 12V power supply alone was not enough as the 5V supply, regulated within the device, was also at fault. In the end I used an old PC power supply to supply both the main unit and the drive directly. I disagree with the advice of upgrading the 12V adapter alone as I found the system to occasionally crash when doing many things at a time (recording twice and playing for example). Below is a list of the power requirements of the drives I tested, just in case you were interested.
IBM Deskstar (300ma, 500ma)
Maxtor DiamondMax Plus 9 (670ma, 960ma)
Maxtor Fireball 3 (559ma, 601ma)*
Samsung SpinPoint (700ma, 500ma)
Seagate Barracuda 7200.7 (720ma, 350ma)
* The original drive
So now I have a fully working system that I can schedule a couple of weeks of recordings. There are a few other mods that can be made, and ways to retrieve a recording from the drive, but alas not transfer back to the unit. The best place to find everything is here.
Finally a reminder that you can totally destroy your hardware by doing things like this so don't do it unless you don't mind breaking the system and voiding any warranty. Today you can also get a higher capacity PVR costing about the same as a smaller unit and a new drive. If you are wanting to build a more complete and customisable system then perhaps you should consider MythTV as demonstrated by Revision3. Do let me know if this was of any help and if you have moded your PVR.