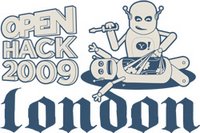 In June 2007 I attended the BBC/Yahoo London Hack Day at Alexandra Palace where I teamed with this Thom and others to create a socially controlled blimp. In 2008 I attended the BBCs Mashed (sort of like Hack Day, but because of the unique way it is funded and all that) where Ewan somehow persuaded me to code a flight simulator in PHP. Regardless of the name, all these events are a chance for us geeks to get together and build something in 24 hours.
In 2009 it is Yahoo's turn again with Open Hack London in Covent Garden, London. I have a place and I understand there are still some places available. The question is how can I surpass the awesomeness (or is that shear stupidity) of past events. I have a few ideas.
1) The most useless idea is inspired by Is it Christmas, but instead of looking out the window you can go to "Is It Wet", have your location predicted, the weather forecast consulted, and you informed about any rain outside.
2) Slightly more serious is to produce a hardware navigation system for web sites to increase accessibility, and to simplify the user experience.
3) Finally a profile system for BarCamp attendees to put us in contact with each other.
Are any of these any good? Have you got any better ideas? I really want to do something with hardware but am struggling to think of a good idea that can be done in a day. Help!
Ps. Ewan, the answer is no. I don't care what you say or how you say it, this time I am not going to be fooled in to doing the imposable. Just no. ;-)
Pps. If you don't fancy a full 24 hour hack Moo are holding a one day event (at the same time, Doh!)
Ppps. Ewan, I have not changed my mind. The answer is still no!