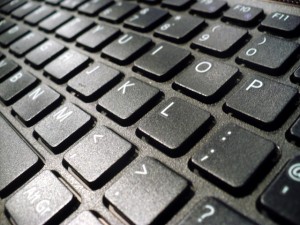 ….and the winner is, A Sony Vaio VPCEB3J1E. This is my quick review of it.
Originally I decided not to continue with a Vaio despite my good experiences of them because of the cost, but by the time I had added up the total cost of the other options with all the features I needed they were back in play again.
* Build
The general build of the machine is good. The colour is a rather unusual brown, but that saved me £50 at the Sony shop so I went for it. I am pleased that it has plenty of USB ports that were lacking in my last Vaio, and I now have a SATA port to play with. The PCMCIA port has been replaced with an Express Card port and the Firewire has now vanished. There is fan noise but no more than I expect in a modern-day laptop.
* Keyboard
The keyboard is good with nice response from the keys when you push them with a low pressure and I am really starting to like it. As I tend to use it a lot this is important to me. They have squeezed a full keyboard with numeric keypad but pleasingly have not reduced the key size. I am finding this a little odd with the keyboard is slightly to the left of where I am use to it being, but I am getting use to it. Offsetting the touch pad in line with the QWERTY keyboard is a great bit of thinking.
* Touchpad
This is merged in to the case and there is no hard edge to sensitive aria. I am getting use to it but do prefer being able to judge where my finder is on the pad by feeling the edge. I have had to turn off many of the special scroll functions until I get more use to it. I have also had to turn the multi-touch functionality off for now as I am finding more annoying than intuitive, but this is more of a Windows than a hardware issue.
* Screen
The screen was the one thing that did not live up to the success of the rest of the computer. I am a bit picky when it comes to my screen and it is well known that touching my screen is punishable by death. My last machine had a lovely screen that when it was black it was very black and coped well in daylight. Don't get me wrong, this is a really nice screen and in line with the competitors on the market, but it is just not quite as good as my last one. I discovered that it is important to tweak the colour settings in Windows using the wizard to have a half decent screen. Another minor annoyance is that I can't fold the screen almost flat. It might sound daft but I did this a lot to read something behind the computer or get rid of a reflection on the screen. Also the height of the screen is smaller by 32 pixels and I am amazed how much smaller that makes it feel despite being a lot larger in reality and pixel count.
There is also a good old VGA output and an HDMI port.
* Hard Drive
Nothing special but that is okay. I am doing more with visualisation for development and testing and the hard drive is always the thing that is the week point. Because of this I am running with it and considering an upgrade in the future. For most stuff this is fine and again the same as everything else on the market.
* Battery
It has a battery? The official specification says 2.5 hours but many shops round it up to 3. In reality it is just over a couple of hours, but for the last couple of years my old laptop has given me 30 minutes tops and I need it for working for when I am plugged in and will be using the netbook for presentations and computing in the train. With this in mind it is a small battery but I am not bothered.
* Sound
Not really had a proper chance to test it but properly but seems quite nice. I have already done some Software Defined Radio working with it and it copes well with a surprisingly high sample rate.
* Windows
It came with Windows 7 Home Premium. Although I lost the trust of Windows a while ago now I need it for some development projects so will stick with it for now. There are some things that they have improved for me, but there are also many other things that make my life harder.
* Bugs
I am still trying to fully debug the problem, but the machine waking up in the middle of the night and flattening the battery. It appears to because of a bug in the Vaio hardware or firmware in combination with Windows media services. The quick fix appears to be to unplug the power before hibernating, but I will blog about this properly when I have done a few more tests.
So, in summary I do rather like the machine and am still pleased with it a month on. There are cheaper options for most users, but if your needs are close to mine I do suggest giving them a look.
One final note. I purchased my machine from the Sony shop because they had a discount on at the time, and Dixon's / PC World / Curries / whatever they are called this week refused to honour the discount (expect a rant blog soon). If you are going to buy from Sony online DO NOT SET YOUR LOCATION because it will tell you the prices at your local store, but will also increase the online prices to those prices. Yes, if you don't select you location the online price will be cheaper.