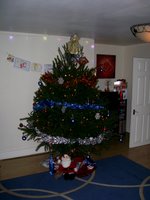 This Christmas we put up a tree in early December that we picked up form a local garden centre (for local people). It was a lovely tree and I cared for it greatly. Unfortunately I left the tree and the heating thermostat unattended and Gillian melted it. ;-)
So now on this Christmas eve we went out to look for a replacement. Most places had sold out and the one we did find was malformed and still at full price. Rather than keep driving in circles I hit the telephone and called Homebase who had a few trees left. When we arrived they were still priced at full price and the girl slouched at customer services confirmed that they were not reduced. Gillian was not to be defeated and asked someone else on the way to the car if they were going to reduce the trees at all, and to cut a long story short the chap was then carrying our new free Christmas tree to the car for us.
In summary a big thank you to Homebase for the tree, and if you need a tree on Christmas eve then ask for a discount as the shops would rather be shot of them than hold on to them.