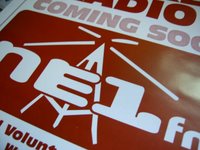 It has taken about seven years to get here, but our new community radio station NE1fm finally launched on Friday 8th June 2007 broadcasting on 102.5 FM.
The whole story about how we got here is long and complicated so I will save you from that story for now.
On day two and three we broadcast live from the Newcastle Green Festival bringing live music and the capturing the whole atmosphere.
Currently we are broadcasting live on week nights between 7 and 11, and will be expanding the schedule over the next six weeks. Why not tune in now and then and you might find something you like.