Well, guess what, we won the best hardware hack with our blimp. We don't actually know what we have won yet, but I suspect it will be one subscription to an O'Reilly magazine publication between five of us, so it is probably academic. Prizes are good, but the recognition does mean more to me so I am not upset in the least. Also knowing that I can create a Pascal HTTP server in under 10 hours (just don't ask), and that I can learn the Yahoo Maps API and produce a mashup in under 3 hours is is also rewarding, and slightly concerning. The part of my brain that should deal with spelling has obviously decided it prefers coding. :-)
One thing I did forget to mention in my prior posts was that I did go and see what everyone else was working on through the night, and this was most enjoyable. Everyone was happy to show what they were doing, I learned quite a few things, and got to chat with a lot more people. Thank you for letting me interrupt your work. Personally I got very little from the 90 second presentations on Sunday, but this made up for it.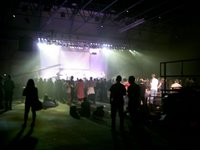 After the event, that was running ahead of schedule, there was a live performance by the Rumble Strips (with a strong Dixie's Midnight Runners influence IMHO) that I intended watching, but despite the offers of free beer I was just to excused to enjoy it and plodded home.
Just a quick update on the beanbag front. I managed to grab a spare beanbag from the hall after the presentations, and (as a little bird told me) we were able to take them home after the event. I did later see my original beanbag across the entrance way one last time, and am pleased to see it is going to a good home. :-)